Intern Testimonials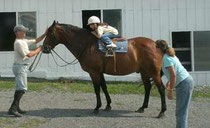 Lily Calhoun practicing on Brownie pony for a career riding her family's Perfect Peace homebreds!
Madison Scott, 2011
   "I had no prior experience working at the racetrack before beginning the KTC program. I believe that the time I spent the will prove to be invaluable in whatever career path I choose. Working at the track has brought me a new work ethic, as well as a true appreciation of the teamwork it takes to make a Thoroughbred race ready. Although I knew coming into the program the amply amout of time and energy a job at the track requires, reading about it and doing it are two completely different things. The experience I had at Colonial was a wonderful learning opportunity, especially for a racing novice like myself. The racing industry is a difficult one to break into, and I'm extremely thankful that KTC exists to give kids like myself a chance to work in the industry."
Marshall Blevins, 2009-2011
   "The internship experience provided by the HBPA has been priceless. The chance to get my foot in the door in an industry that is so hard to enter is something I'll always be thankful for. I've learned a lot and come a long way since the first horse I hot walked for Mike Pino. Since then, I've worked for a Triple Crown winning trainer, a Kentucky Derby winning trainer, and found jobs at various tracks across the United States.  The opportunity to work for trainers who love to teach, the connections I've made, and the horses I've cared for will stay with me for years to come. Without Colonial and the KTC internship, I would never have made it this far, I would have no career direction and I would be without valuable hands-on experience."
Elizabeth Rogers, 2010
   "When I first began considering internship possibilities, I never thought I would find myself at Colonial Downs in the middle of nowhere. Looking back at my time on the backside of Colonial, I couldn't imagine not being there.  I was given a wonderful opportunity to work for leading trainer Hamilton Smith. It was an honor to be a part of his top-class operation. Through Mr. Smith and his dedicated and helpful staff, I learned the skills of hotwalking and grooming.  Colonial Downs was an opportunity I will never forget, the people I met, the experiences I had and the lessons I learned will carry on with me throughout my life."
Ashley Gibson, 2002
   "My experience as a KTC intern is something I talk about and relate to in every job I've had at the racetrack. From working with a racetrack vet for four and a half years, to learning how to pony, to my current job working for a non-profit, ponying and teaching troubled kids to work around horses safely and efficiently."
Nikki Sherman, 2001-2002
   "My teenage years shaped my life. I was always quiet, often afraid to say or do anything out of line. The event that changed my life was when the internet club I belonged to, KTTC, gave me the opportunity of a lifetime for a two week long internship at Colonial Downs. I truly believe that if I had not set foot on the backstretch at Colonial Downs, I never would've had the mental fortitude to find employment at the track. Perhaps the most crucial thing I learned was the importance of friendship. This was reinforced when I returned to Colonial for the entire 2002 meet, where a group of young racing fans became real 'racetrackers.' We had our ups and downs, but in the end we learned how to interact with each other in a positive way. And to this day, we are all close friends.
   I do believe that my two summers at Colonial changed me for the better. I am no longer afraid to voice my opinion, which has resulted in a successful start to a real life career. I also made life long friends who I know I can count on in times of happiness and sadness. If not for KTTC and the KTC internship, I cannot even imagine where I would be today."
Linda Sherman - Nikki's Mother
   "I knew the opportunity for Nikki to intern at Colonial Downs would be so great. And  just like I thought she didn't even want to come home.
Anna Sitzler, 2003
   "My Colonial Downs internship will hold memories that are forever special to me. I won't lie and I won't pretend hotwalking is a glamorous job, but it's a great way to start and end every morning. From a personal standpoint, it was a test to see if jockey-dom was something I did truly want or just a childish dream. After one day I knew the answer. It was something I had to have."
Amy Schuver, 2001- 2002
   Amy Schuver, the other inaugural intern with Nikki Sherman, relished her experiences at Colonial Downs. She too returned for a full year in 2002. She has utilized all of the knowledge gained from working on the backstretch while on her career path. Amy graduated  magna cum laude at NCSU, she  has worked for a lameness specialist vet, she was a vet tech at a large animal hospital, and spent one year foaling quarter horses. She is currently enrolled in vet school at the University of Tennessee. "I'm not sure where I'll end up, but as long as I'm working on horses I'm happy."
Jackie Mitchell
   "I was an KTC intern and my experiences were both enlightening and eye opening. To be exposed to and help expose a new generation to thoroughbred horse racing was immensely rewarding, being an intern uncovered dozens of ways I could be involved in horseracing as a professional and as a fan. After being interviewed  by Sam Huff for a racing radio show, it cemented my desire to be involved in journalism and public affairs. During my time at Penn State, I interned for Greater Media Marketing in Philadelphia. I am not currently employed in the horse field, but the experience taught me leadership, adaptability at a young age, and gave me initiative to work hard for long hours and the ability to think outside of the box. It also kept my options open for a potential future involved with racing. It provided me with the tools, contacts and life experience I needed so when I was ready to make major decisions I was equipped with the means to control my options and outcomes."
   "At the racetrack working with horses causes you to learn something more about yourself. Horses don't care your age, race or gender. They depend on you to care for them, and be someone they can look to when something unexpected comes their way. I've learned that alot of people i know, including myself, need to take a lesson or two from the thoroughbreds.

Katee Whitesell, 2003-2004
   " I was able to work for Jonathan Shepard and i learned working with horses is not an easy task. KTC interns certainly learn that. To work with horses, you not only need to have a love for the animals but toughness and passion, and a willingness to get out of bed every single day before the sun is up. You work day in and day out, and don't get any days off  when working with horses. Life at the track can be tough. But there is no feeling I could describe as the feeling you get when the horse you spent all your time with crosses the wire win or lose. This trip was the turning point in my life where I knew that my heart and soul belong at the track."
Robin Tan, 2003
   "I came into the KTC internship questioning myself if the horseracing industry is truly the business for me. While you have to work hard to survive at the track, I can't imagine calling anything but the racetrack my home. Living and breathing racehorses was an absolute paradise for me."
Anna Sitzler, 2003
   " Being in the KTC intern program and  the immense amount of support from everyone, from grooms to jockeys, was a huge confidence booster. The entire experience made me realize the special bond I share with horses. And when you listen to what the horses teach you, you cannot ever go wrong."

Amber Carlilse, 2004- 2009
    "I was privileged to be a part of the KTC internship program designed to give young people who are interested in horse racing an opportunity for hands on experience at a race track. I encourage all young horse lovers and hard workers to get active and be an intern at Colonial Downs. It is the experience of a lifetime and everyone who participates in this unique program gains valuable experience in the horse racing industry and in the real world."